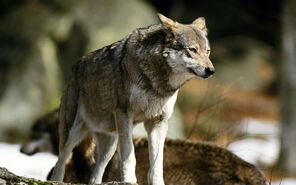 Rory
is role played by
.Skystar.
Rory(YBM013) was born in August 15, 1995 in the Bad Dogs Pack. His mother was Pan and his father was either Forest, Gumpy or Prowler. His litter-mates were his one brother was YBM011 and two sisters were YBF010 and Julie. He was born in Pan's first litter. Pan gave birth to a second litter of four pups on April 12, 1996. He made it to his first year however he mother left the pack and formed the Celtics. Rory is still in the Bad Dogs Pack today.
Mother: Pan
Father: Unknown
Brother: YBM011
Sisters: YBF010 and Julie
Ad blocker interference detected!
Wikia is a free-to-use site that makes money from advertising. We have a modified experience for viewers using ad blockers

Wikia is not accessible if you've made further modifications. Remove the custom ad blocker rule(s) and the page will load as expected.